Warranty
All MAXIMUS rods have 2 years warranty starting from the moment of purchase. Warranty covers only products failed due to a manufacturing defect.
How to Start a Warranty Claim
1. Contact the official distributor in your country (please
see the list
here
), attach detailed problem description and confirmation photos.
2. Send the defected rod to the distributor
3. Get approve from the distributor about the warranty issue (within 30 days since damaged rod received).
4. Get the new rod identical to the previous one or the new part of a rod.
Attention
Warranty doesn't cover damage caused by the violation of terms of usage.
Terms of Usage

Attention
Do not use carbon fishing rods near high-voltage power lines. Even in the absence of actual contact between a rod and an electric wire, an electrical arc can occur and as a result you may be seriously injured. Do not use carbon fishing rods during thunderstorms. Carbon is a very good conductor of electric current and can attract lightning.
Before you start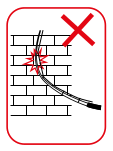 Do not poke the rod tip into hard surfaces to test its strength
Do not test strength by pulling heavy items

Avoid damage caused by impacts and careless handling

Please transport the rod in case. Manufacturer does not responsible for damage caused while transporting and storage.






Usage

Build a rod from the bottom to the top direction
Check the toughness of rods part connection
Pass the line through all guides.
Please use recommended weight of the lures

When pulling catch from the water use net. Do not raise rod with catch under the water.
The rods were not constructed for pulling snags from the bottom, trees or any other "snag" sites. Please do not try to pull the snag with the rod.







After
Rinse out all rods parts with the water.
Always keep rod in case to avoid damage.





Please note
Warranty for changed rod or its part counts as previously – 2 years from the purchase (warranty replacement do not prolong warranty period)
The Manufacturer does not responsible for damage when
• the product intended for personal usage was used for business activity or other purposes
• damage has been caused by accident or improper care
• failure to provide the recommended care and maintenance
• unauthorized repair